RED‑S in Para Athletics
Tags: Athlete Advice, athlete Q&A, Para Athlete
Read time: 10mins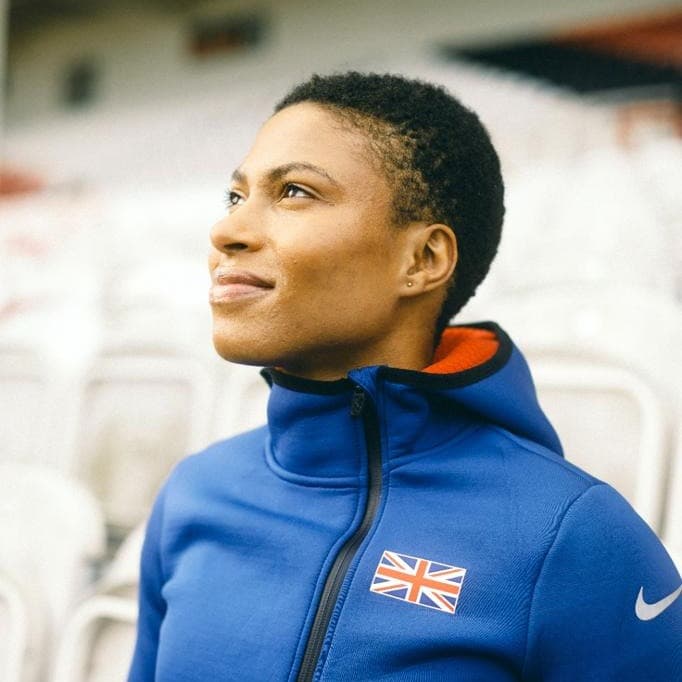 RED-S in Para Athletics: A Q&A with Karé Adenegan
Insights from a 5x Paralympic Medalist's experience with RED-S
At just 21 years of age, Karé Adenegan is an incredibly well-decorated wheelchair racer. Specialising in distances between 100 and 800 metres, Karé has earned five Paralympic medals – three silver and two bronze – and five World Championship medals – four bronze and one silver. 
However, her meteoric rise in success in para athletics was not without its setbacks, namely, becoming caught in the comparison game where she found herself striving for a smaller body at the expense of her personal health and training quality. 
Rewinding to the start of her athletic career, an 11-year-old Karé found herself glued to the TV during the 2012 London Paralympics as Hannah Cockroft won two gold medals for Great Britain. With the support of her parents, Karé discovered an athletics club just 10 minutes away from her home in Coventry that supported wheelchair athletes. 
She quickly showed her promise; after her first season of racing, Karé was listed among the top-10 in the world for the T34 classification, which set her on the pursuit of exploiting her potential on the track in hopes of one day representing her country.
Karé immersed herself in her training and the world of competitive athletics. "Over the seasons, I was also getting to know the sport more, and became more aware of the priorities of athletes and the lifestyle," she explained. This meant more time in the gym, and paying attention to her nutrition, competitive strategies, and competitors. 
At first, this propelled her rapid development, but as a young and relatively inexperienced student-athlete, it also left her susceptible to the outside influences that often set the stage for RED-S. 
On the heels of a successful 2016 season where she collected three medals in her first Paralympic Games in Rio, Karé found herself struggling to balance her training load alongside the demands of preparing for her GCSE exams. At just 16, the stress was piling up as her life became a repetitive cycle of spending her days at secondary school followed by evening training sessions and more studying. 
As her training decreased to accommodate exam prep, her mindset toward fueling her body changed. "I got that in my head that 'Oh, if I'm not training, I don't need as much food because I don't want to intake more energy than I need.' That was the mindset; that was what really spiralled." 
She laughed, looking back, as she said "Obviously, it's silly, because during your exams, you actually want to be fueling your brain." 
"I don't know how I actually got through my exams, because I wasn't really looking after myself amazingly. But that's kind of where it all began."
Luckily, through support from British Athletics, Karé was able to recognize the problem before she had gone too far, and course correct, enabling her to smash the world record in the 100m just a year later in 2018.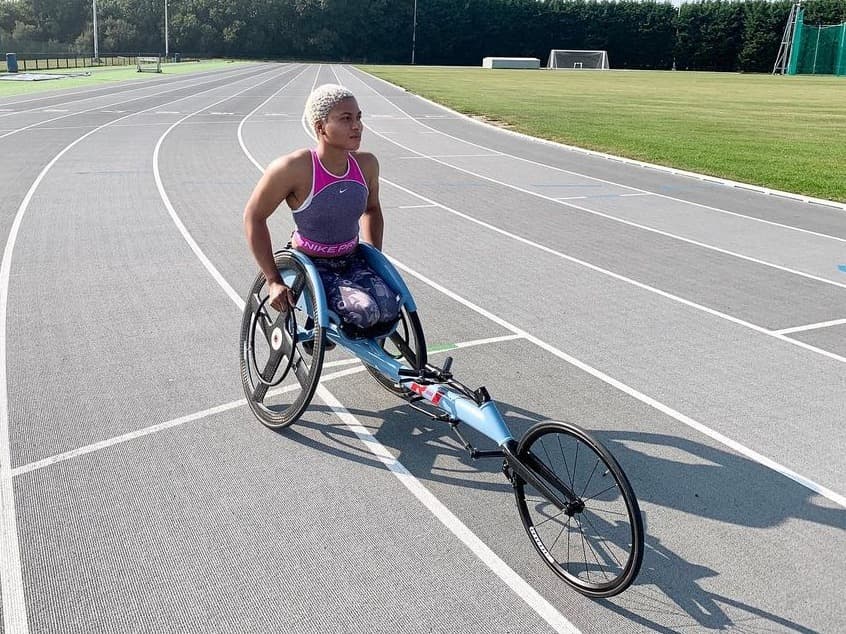 Here's more from our conversation with Karé. 
How did your image of yourself as an athlete influence you as you began to restrict your diet? Was there a motivation to become lighter in hopes it would make you faster?
Yeah, definitely. Around that same year (in 2017), I remember we had a camp for the GB team. And it's quite bad, but I was listening to people's conversations, and I remember them talking about the weight they were at and the food they ate. 
And, I remember the year before in Rio, actually, we were having dinner, and I had my dinner and obviously, my plate was full. I had a lot of food on my plate. And I remember looking around, I was like, 'Ah, but they're just eating salad, I shouldn't be doing that.' 
So there was a lot of comparison going on as well, and I think going into 2017, I began to think 'Maybe I should be lighter. Maybe that'll make me faster. Maybe I should be eating like these other athletes that do the same sport as me.'
What were some of the eating habits that you had picked up on that you were trying to mirror?
One thing that I specifically struggled with was carbs. And I think that's also one that triggers a lot of people... I think as well in sports, especially at that time, that whole keto thing and high-protein... that was really a 'thing'. I mean, it probably is now too, but I think people are challenging that narrative more. At the time, it was all you were hearing, like, 'protein, protein, protein.' So I think a lot of that got in my head.  
But in general, looking back at that time, it was a lot of external voices that were impacting my own sporting journey. And as soon as you kind of block out those external voices and think about what you need, generally, that's how you do better.
Where do you feel those external voices were coming from?
It was mostly those around me – seeing what other athletes were doing. But I guess more practically, social media. You see how other people are training, how other people are eating, that kind of thing. That definitely impacted me.
You mentioned that at the time, you weren't familiar with RED-S. Now knowing more about it,  what were some of the symptoms that began to creep in that checked the boxes? Besides losing weight, what were some of the changes that you began to notice that were a concern?
In terms of energy and training, I definitely didn't have enough energy to do the training sessions that I was doing, whilst doing my exams. When I was going to group training sessions, I just felt kind of dizzy, and I think I was aware that 'Well, it's because I didn't fuel very well beforehand.' 
But then the major one was losing my period. As soon as that happened, I knew 'Okay, my body's basically telling me, I'm not getting enough.' I'd lost my period for several months and it took quite a long time to get back!
When you noticed your period was gone, what was your understanding of the relationship with missing periods and the balance of training and nutrition? Had you heard about the female athlete triad?
I wasn't aware of what it was. So actually, I did some research on my phone and was seeing RED-S and certain things coming up, like the female athlete triad. But at the time, I really didn't know what it was. I literally had to go out of my way and search 'Why haven't I got a period?' And I started finding things slowly from that.
Was there a moment where you realised you had gone wrong? And what kind of support did you receive that helped you shift to a healthier mindset and recover? 
I remember going to the performance centre for athletics in the UK. I met with the physio there and she was quite concerned, because I obviously looked like I had lost a lot of weight, and I was aware of that. And I think there was that realisation, that moment: 'Oh, gosh, I'm really not doing very well.' I remember getting quite upset because it just dawned on me, that 'Oh my gosh. What's going on?' 
So I had that moment with her, and she was really encouraging. And there was also a doctor at the time, as well, there. They were able to support me in that sense and were just able to encourage me to eat better and look after myself. 
But also they flagged up that I should check bone density. I had a DEXA scan as well, which gave me that warning that I need to, obviously, be careful, because I don't want to cause any injuries. So getting that support on the side of sport science, and having the support of that team (was critical).
And then it was just a moment of realisation, for me; a mindset change. I was quite fortunate that I was able, through their help, to actually realise what was happening physically to my body, and make those changes.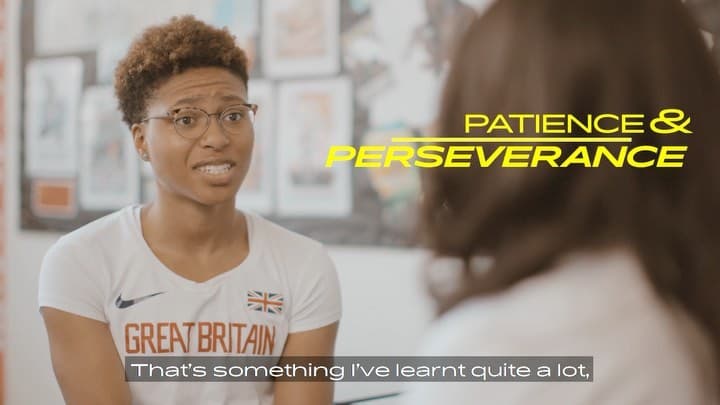 Did the support you received shift your thinking on carbs also?
For sure. Once I'd been through that, I realised it's so important (to eat plenty of carbs). Having that realisation that, 'Okay, this is my energy source, and we need to fuel ourselves. We need to have energy to do what we do.' That was also important for me to get past (the low-carb mindset). 
What have you learned about yourself as an athlete as a result of your experience with RED-S? 
I guess it made me realise that I needed to be more attentive to my needs. I learnt that I was really comparing myself to others too much, so it was a realisation that actually, my body is going to be different to others. And especially in para sport, we've all got different disabilities, so we all need different amounts of energy. 
For example, with cerebral palsy, what I learned was that we generally use more energy than most people. We use literally two-times the amount of energy to move and that kind of thing. So that was even more alarm bells, like, 'Wow, I wasn't eating and I've got cerebral palsy! That's really bad, I shouldn't be doing that. 
[My experience with RED-S] helped me recognise that everybody's unique. And that, especially as an athlete, you just have to do what works for you. There's no point looking at what other people are eating or what training people are doing, it's such an individual thing. But it's a big learning curve.
Historically, para sports have received less visibility and support than counterparts in able-bodied sports, and are sometimes met with a lack of understanding. At the same time, RED-S is a relatively new concept. What are your perceptions of the education and awareness about RED-S in the para athlete community? 
I haven't actually heard any para athletes talk about RED-S. I remember when I was doing my research, I saw an example of able-bodied cross-country runner, but I never really heard about it from the perspective of para athletes. I think there's definitely a gap in research that probably needs to be done, because again, we're all so different. It probably affects people with disabilities in a different way. 
Did you feel there were any barriers to access in terms of getting the specific resources you needed to recover and support your long-term health and athletic career? 
I was fortunate for the team around me. British athletics (which oversees para and able-bodied athletics) in general, is aware of it because there have been several athletes who have gone through it. But on the para side, there probably is still a gap.
Outside of racing, you're also an advocate for inclusion, accessibility, and diversity in sport. What is it about our mission with Project RED-S that appeals to you as an athlete ambassador?
Awareness is so important. And especially with something like RED-S – it affects so many people from different walks of life. The fact that you're advocating and reminding people that RED-S affects men and women – that's obviously really important. It affects able bodied and para athletes. This is a condition that really affects a lot of people, so athletes need to be more aware of this... 
I know how it affected me and I literally had no idea what it was, and I'm sure there's so many athletes who are going through it and literally just don't know.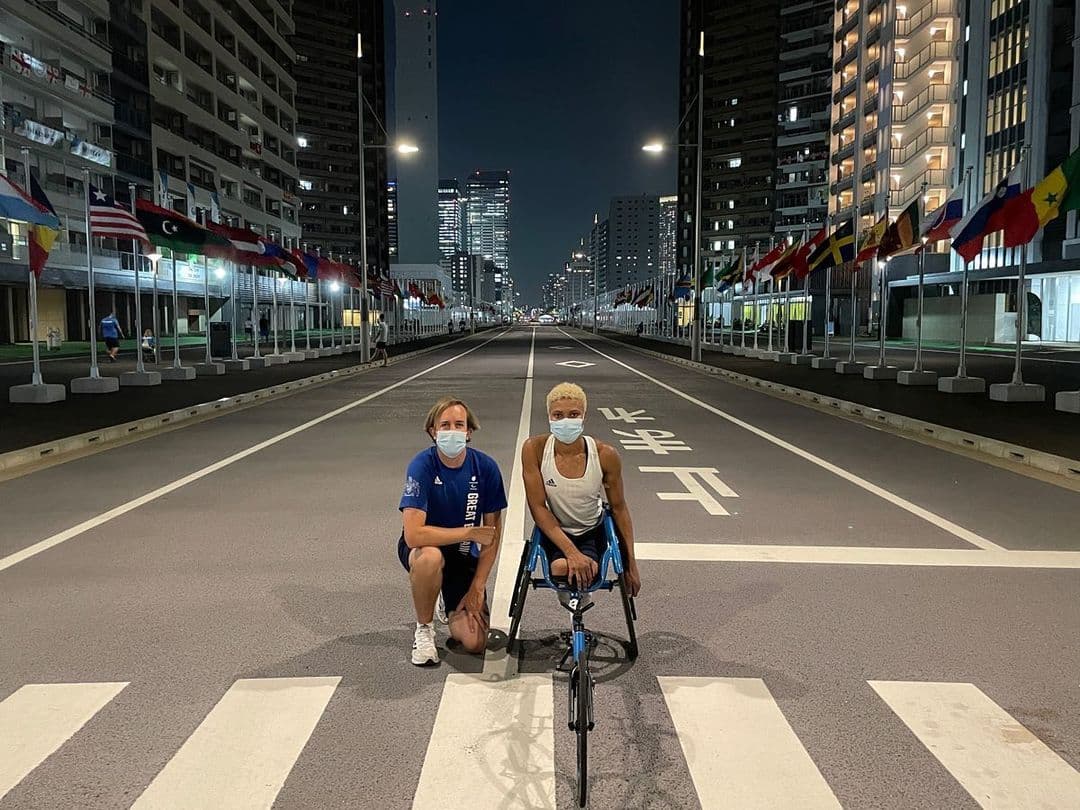 Looking ahead, like what are some of the goals that you're excited about chasing in wheelchair racing? And what do you hope to accomplish outside of sport along the way?
In terms of wheelchair racing, we've got a World Championships – the World Para Athletics champs – in Paris next year. And the following year, we've got the Paralympics in Paris again. 
Outside of that I've just recently graduated from studying history at University. So I'll probably pursue a career in something related in the future; maybe teaching or another role in education.